The College of Horticulture, Mojerla is one of the two constituent colleges of Sri Konda Laxman Telangana State Horticultural University established in 2007 with the main objective to serve as a centre for academic excellence in the area of under graduate, post-graduate education and human resources development in horticultural sciences. Telangana is known for the famous mango cultivar 'Banganpalli' (syn. Baneshan) from Kollapur area in erstwhile Mahabubnagar district while the custard apple variety 'Balanagar' was identified in Balanagar area which is situated at 40 km from Mojerla.
Location
This college is located in the Southern Telangana part of the state which falls under semi-arid Horticultural zone. It receives an average rainfall of 587 mm per annum and records maximum of 44 °C and 15 °C minimum temperatures. . The soils of this zone are mainly red sandy, lateritic and medium black soils. Geographically, Mojerla is located at 16° 42' N latitude and 77° 58' E longitude with an elevation of 346 m above MSL in Peddamandadi mandal of Wanaparthy district. It is located on NH-44 on Hyderabad- Bengaluru High way/ Hyderabad-Kurnool Road and 130 Kms away from Hyderabad.
Education
This college offers B.Sc (Hons.) Horticulture- a 4 years of undergraduate programmme. The B.Sc (Hons.) Horticulture students are admitted through centralized common counseling of EAMCET from Bi.P.C. stream. From 2013 onwards the students were admitted for Post Graduate programme through university level PG entrance. Currently Post Graduate programme is in three departments viz., M.Sc. (Hort.) Vegetable Science and M.Sc. (Hort.) Floriculture and Landscape Architecture and M.Sc(Hort.) Fruit Science with an intake capacity of 4 seats in each department. The course curriculum is updated as per the guidelines of ICAR's Fifth Dean Committee recommendations to meet the global standards. The syllabi and delivery system is continuously updated to include emerging areas of research.

Students of this college have continuously shown exemplary academic performance by securing highest OGPAs among the four colleges of erstwhile APHU/Dr. YSRHU and two colleges of present SKLTSHU since inception. Many students bagged ICAR-Junior Research Fellowship (JRF) for PG studies at the national level and further continued their academics through Senior Research Fellowships (SRF) for doctoral degrees in various disciplines of Horticulture and allied departments. Some of our students have secured admission in abroad and pursuing masters in Food Technology at UK and Australia..

The college has well qualified faculty who are specialized in various branches of Horticulture and Agricultural sciences and imparting quality teaching, research and extension activities. Apart from teaching, the teachers are also contributing to the farming community by disseminating latest technologies/information of high practical utility during diagnostic field visits and training programs. This college has well equipped laboratories and are strengthened by the funds of World bank NAHE Project. Farm land is established in 50 acres at Mojelra and 80 acres at Instructional farm, Madanapuram with well established fruit orchards like Mango, Guava, Fig, Pomegranate, Custard apple, Dragon fruit and Prerennial Moringa.
FUTURE PROJECTIONS
Despite prominence given to horticulture crop production over the decades, there is still a large gap between the demand and supply of several horticultural commodities.

Approximately more than 20 vegetables are being consumed in Telangana state. Out of which Tomato, Onion, Greenchilli, Bhendi, Potato, Leafy vegetables, Ridge Gourd, Brinjal, Bitter Gourd & Beans occupy top ten positions. Telangana State is surplus in production of vegetables like Tomato, Brinjal, Cabbage, Cauliflower, Cucumber, Carrot & Radish which need to be converted in to value added products like pickles, sauce, ketchup etc. Similarly, Telangana State is deficit in production of Vegetables like Bhendi, Greenchilli, Gourds, Beans, Capsicum, Potato, Colacasia, Yam, Leafy Vegetables & Onion.

Establishment of Horticulture College at Mojerla gave an impetus in identifying less explored potential areas for the expansion of fruit crops with location based research and to train highly skilled and competent manpower to address the challenging tasks with new emerging areas of research, extension and industry.

Divergent efforts in this direction helped in development of suitable production technology and varieties to fulfill the location specific needs viz., arid fruit crops for scarce rainfall areas, salt tolerant crops for poor soils, short duration vegetables for sustenance, regular income generating perennial flower crops and high income generating flower crops for Southern Telangana Agro-climatic region (STZ).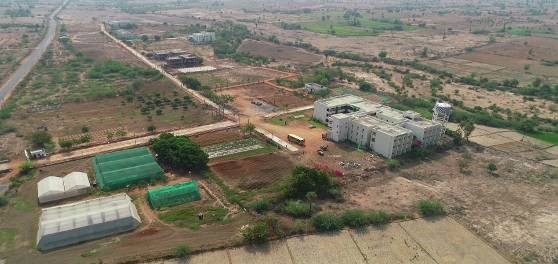 Aerial view of the college of Horticulture Mojerla
STAFF DETAILS
| | | | | | |
| --- | --- | --- | --- | --- | --- |
| S. No. | Name of the faculty | Designation | Mobile No | E-Mail ID | Photo |
| 1 | Dr. P. Saidaiah | Assoc. Dean | 7780509322 | | |
| 2 | Dr. D. Vijaya | Professor | 9441421307 | vijayagrs@gmail.com | |
| 3 | Dr. Lakshmi Narayana | Professor & Officer Incharge, PGIHS-Mulugu | 9603252042 | ldharavath@gmail.com | |
| 4 | Dr. Veena Joshi | Assoc.Prof. (Hort.) | 8977129027 | | |
| 5 | Dr. R. Purnima Mishra | Technical Officer | 9989633273 | | |
| 6 | Dr. Shahanaz | Asst. Prof. (Ento.) | 9848731949 | | |
| 7 | Smt. G. Vidya | Asst. Prof. (PSMA) | 7702502185 | | |
| 8 | Smt. T. Baby Rani | Asst. Prof. (Fruit Scie.) | 9959986597 | | |
| 9 | Dr. J. Srinivas | Asst. Prof. (Veg.Scie.) | 9951487739 | | |
| 10 | Sri. K. Nagaraju | Asst. Prof. (Veg.Scie.) | 8861188885 | | |
| 11 | Dr. J. Shankaraswamy | Asst. Prof. (Hort.) | 9626634439 | | |
| 12 | Dr. G. Sathish | Asst. Prof.(Statistics) | 8017405265 | | |
| 13 | Sri. B. Chandra sheker | Asst. Prof.(SS & AC) | 8374278258 | | |
| 14 | Sri. B. Rajasekar | Asst. Prof. (Ento.) | 9972950617 | | |
| 15 | Dr. P. Gouthami | Asst. Prof.(Crop.Phy.) | 9963332610 | | |
| 16 | Dr B Sai Krishna Nikhil | Asst. Prof.(GPBR) | 9100393939 | | |
| 17 | Dr.Bhagyashali V.Hudge | Scientist (Plant Pathology) | 8805500020 | | |
| 18 | Ms. T. Navya Swetha | Asst. Professor | 9908062527 | | |